Diddy Confirms That He and Yung Miami Are a Couple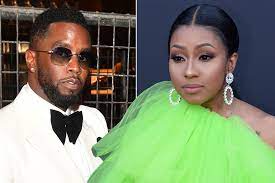 Hip Hop mogul Sean Diddy appeared on Caresha Please podcast's premiere episode on June 9 and confirmed that he is in a relationship with rapper Yung Miami but claimed that he is still a single man.
Caresha Brownlee, also named Yung Miami , is a member of City Girls, an American hip hop duo, and the host of Revolt TV's new podcast Caresha Please. In this podcast's first episode, she and Diddy laid to rest the rumors that they were dating.
Diddy's Relationship Status
In the interview, Yung Miami asks Diddy about his relationship status, to which he replies,
'I'm single, But I'm dating. I'm just taking time with my life.'
Sean Diddy explained how losing Kim and Cassie affected him and that he needed a time out to be single and free.
Young Miami then asked him to define their relationship.
'So what we is'
Diddy replied, 'We date. We're dating. We go on dates, we're friends, we go to exotic locations, we have great times.'
There have been a lot of speculations about the artists dating, which Yung Miami repeatedly denied. The two have been seen together on several occasions. In November 2020, they were spotted on a beach, but later in an interview with WGCI Morning Show, the Miami rapper said that the two were not an item.
Diddy and Yung Miami also were seen together last month at the Coachella Valley Arts and Music Festival and the Billboard Awards after-party in Las Vegas in May.
Yung Miami vs Gina Huynh
Also, there has been drama between Yung Miami and Gina Huynh that seem to be about Diddy. After the Instagram model shared a photo of Diddy kissing her cheek, the two ladies had an ugly confrontation on Twitter.
In the podcast, the two talk about their first date, and Diddy says that Yung Miami is different and that there is more to her than meets the eye.