50 Cent and French Montana Are No Longer Feuding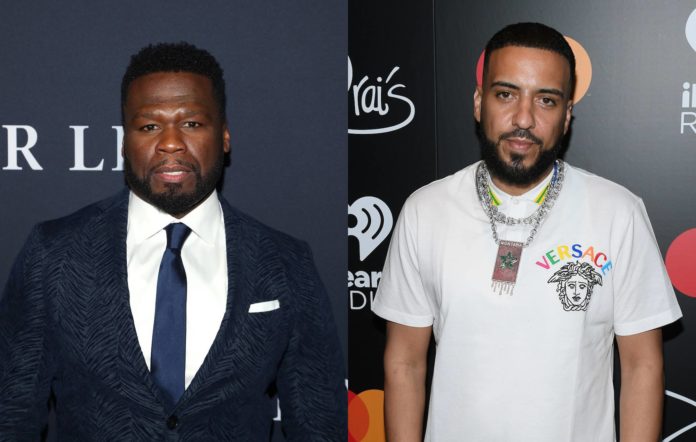 50 Cent and French Montana are no longer enemies. French Montana confirmed the news in an interview with Drink Champs late last week. And it's all thanks to a hit show 50 Cent is producing.
"Man, let me tell you something," said Montana. "I have no problem with 50 no more after he dropped this BMF joint. That's my favorite shit. Whatever me and 50 ever had – shout out to 50. Yeah, me and him, everything is over after BMF. That's the best work ever."
Fif Responds To French
50 Cent took note of the kind words from French and went on Instagram, where he reposted the clip and commented;
"That was the right answer French, well handled. What beef, I don't remember,"
The two have been feuding for years after 50 called out French Montana over his Bugatti and faking streams for one of his songs. The two rappers went back and forth.
50 Cent's hit show BMF is averaging 6.5 million viewers per episode. The show's success earned it a green light for a second season back in October.
50 Cent Apologizes To Madonna
Meanwhile, 50 Cent also gave a rare apology to Madonna for trolling her "sexy photo." The rapper had made fun of a bizarre photo of a 63-year-old Madonna under the bed in heels and stockings.
Angry Madonna responded, "Here is 50 Cent pretending to be my friend. Now you have decided to talk smack about me! I guess your new career is getting attention by trying to humiliate others on social media. The least elevated choice you could make as an artist and an adult. You're just jealous you won't look as good as me or have as much fun when you are my age!"
Later, Fif apologized on Twitter, saying, "I must have hurt Madonna feelings. She went and dug up a old MTV photo from 03. Ok Im sorry I did not intend to hurt your feelings. I don't benefit from this in anyway I said what I thought when I saw the picture because of where I had seen it before I hope you accept my apology."