50 Cent Enrages People with A Distasteful 9/11 Post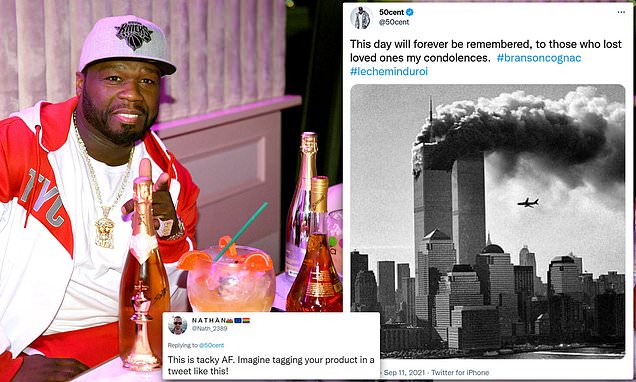 Last Saturday, September 11th marked the 20th anniversary of the World Trade Center attacks, the deadliest terrorist attacks in the history of mankind. The harrowing event took the lives of close to 3000 people, injured 25,000 while a significant number of first responders suffered long-term health issues. As people remembered the dreadful day, 50 cent found himself in trouble for promoting his brands alongside an image of the twin towers.
Annoying Hashtag
The rapper posted a black and white photo of the twin towers as smoke billowed from the north tower with the caption "This day will be remembered to those who lost loved ones, my condolences. #bransoncognac #lecheminduroi"
While it seemed heartfelt, it was the hashtags at the end of the tweet that got under people's skin. The rapper was criticized and accused of having zero class.
One of the tweets said, "Did you F***ing hashtag your liquor on a 9/11 post!?!?"
50 cent and William Spat in 2018
It's not the first time that the rapper has irked up social media in a time of grief. Just last week, 50 Cent caused another stir on social media after the death of The Wire actor Michael K Williams from an apparent drug overdose.
After the news broke out, 50 chose a New York Post article speaking about William's death to promote Raising Kanan, one of his popular television shows.
The captioned the post "If you didn't see Raising Kanan check it out…that fentanyl is no joke, killing the clientele. RIP Michael K. Williams."
50 Cent and Williams had a brief social media spat in 2018. Williams called out the rapper for spreading false rumors about James Rosemund, popularly known as "Jimmy Henchman" getting jumped in prison.
This history made 50 Cent's post about William's death even more distasteful to William's fans.