Da Baby's Controversial Remarks Causes Repercussions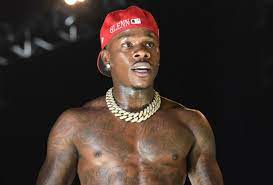 Photo Credit: US Sun
By Robert Frezza
This past week has not been good for rapper Da Baby. He said the following at Sunday night's Rolling Loud Miami, "If you didn't show up today with HIV, AIDS, or any of them deadly sexually transmitted diseases, that'll make you die in two to three weeks, then put your cellphone lighter up. Ladies, if your pussy smell like water, put your cellphone lighter up. Fellas, if you ain't sucking dick in the parking lot, put your cellphone lighter up."
Due to his controversial remarks, the rapper, known as Jonathan Lyndale Kirk, was dropped from numerous festivals including Lollapalooza and Governor's Ball. This is definitely not the first time a rapper has stirred up controversy. Many music celebrities condemned the rapper for his remarks including Madonna and Dua Lipa. Madonna took to Instagram slamming him.
"A message to DaBaby — if you're going to make hateful remarks to the LGBTQ+ community about HIV/AIDS then know your facts."
"After decades of hard won scientific research— there are now life saving medicines available to children born with HIV, to people who contract HIV through blood transfusions, dirty needles or exchange of bodily fluids. These new Antiretroviral can keep a person with AIDS alive for the rest of their lives!!! AIDS is not transmitted by standing next to someone in a crowd. I want to put my cellphone lighter up and pray for your ignorance, No one dies of AIDS in 2 or 3 weeks anymore. Thank God." stated the pop icon.
Pop singer Dua Lipa, horrified by the singer's remarks, also took to her Instagram and mentioned she didn't recognize this as the artist she worked with on in her remix for her single "Levitating".
DaBaby said his comments were 'not digested right', but he continued on drowning in his own remarks and insults on his official Twitter account. "I tell fans to put a cellphone light in the air [and] y'all start a million man March. I told you y'all digested that wrong but I ain't gone lie I'm impressed. Now show this same amount of support when a racist cop kill one of our black ass…YA NOT."