Stevie J Divorces Biggie's Widow Faith Evans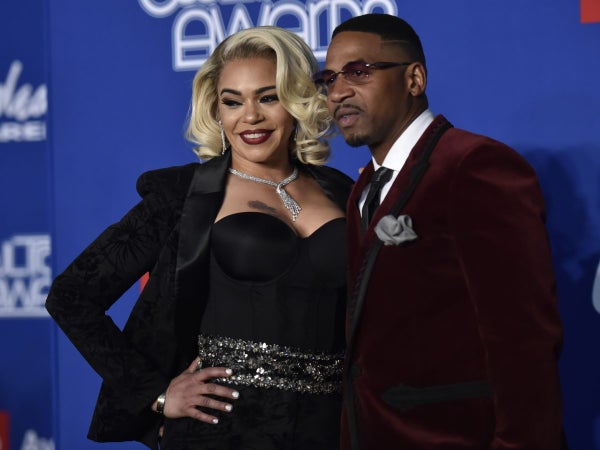 Stevie J is reportedly divorcing Faith Evans after three years of marriage. According to TMZ, the veteran producer filed for divorce in a Los Angeles court on Monday, November 8th, following claims of infidelity on her side.
In April, Stevie J's baby mama, Joseline Hernandez, accused Faith Evans of cheating on him. The ex-girlfriend also made unpleasant remarks towards Evan's autistic son after an incident with Hernandez's daughter Bonnie Bella.
"Bitch you a hoe. And your husband told me and my husband last week that you cheated on him with young n*ggas and you do it all the time. Now talk about your crazy ass kid that almost killed Bonnie under your watch."
Faith Evans Arrested in 2020
It has not been "happily ever after" for the couple that got married in 2018. The marriage was on the rocks shortly after. Signs of trouble in paradise started when Stevie i tweeted that no woman is faithful. This was back in December 2019.
"No woman is faithful … one's insecurities can damage them…cherish what you love just know nothing will last forever!"
He would later claim that his Instagram and Twitter accounts were hacked.
Their partnership would take a wrong turn in May 2020 when Evans was arrested for attacking Stevie J. The police noticed visible marks and scratches on Stevie's face. Evans was booked for domestic violence but was bonded out the same day.
Patching Things Up 
The two seemed to have sorted out their differences after an IG post from Stevie J where he said;
"It's a beautiful morning, and if you woke up next to your significant other, give them a kiss and tell them you love them every morning. You know, make love every morning. Have fun every morning. Put a smile on your face every morning. If you don't have smiles all day, if you not happy and it's all negative, then it ain't gon' work. Positivity is everything, love is everything. Follow the light, man."
Faith Evans was married to Hip Hop Legendary, The Notorious B.I.G in 1994. The marriage would come to a tragic end after the demise of Biggie in a fatal shooting in March 1997.