Jack Dorsey Uses Kanye West's Song To Troll Facebook Blackout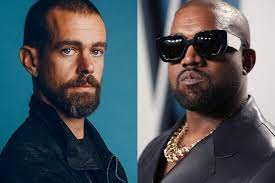 Kanye west's new album 'Donda' will be striking gold in less than a month. At the moment, it remains at the top 5 on the Billboard 200 Chart. While it doesn't look like it needs a helping hand, it received a boost over the internet earlier in the week when Jack Dorsey was trolling Facebook's internet woes.
On Monday, Facebook, WhatsApp and Instagram suffered major outages. Twitter founder and CEO Jack Dorsey used his platform, which was still active, to troll his rivals with Kanye West's "Off The Grid."
Jack jokingly responded to a tweet about Facebook domain being for sale asking;
"How much?"
The tweet went viral. Jack followed it up by posting a link to Kanye's jam that featured Fivio Foreign and Playboi Carti in the Donda album. The CEO seemed to imitate how Twitter users promote themselves under a viral tweet.
Jack Dorsey Supports Kanye
"Wow this blew up. Here's a link to my SoundCloud." The tweet amassed thousands of likes and retweets, though not as popular as his initial tweet.
The jam has 3.5 million plays on the cloud- a figure that Jack Dorsey seem to have a hand in.
It's not the first time Jack has supported Donda. Weeks before the release, he publicly pitched a rollout strategy for Kanye.
"And…this is unlikely and maybe against the creative process…but it would be incredible if @kanyewest put out #DONDA as it is now and continued to update it until he feels it's 'finished" So we can all witness the work evolve in real time."
Kanye's Favorite Founder
Kanye West has in the past referred to Jack Dorsey as his favorite founder and has praised him as visionary and incredibly smart.
Jack is not new to Hip Hop, he has shown to be a fan of Nas, Nipsey Hussle and Kendrick Lamar on his Twitter.
The founder even went into business with Jay-Z earlier in the year, buying a majority stake in TIDAL for $302 million. Jay-Z got himself a spot on Square's board as part of the deal.