Nicki Minaj's "Super Bass" Is Now Certified Diamond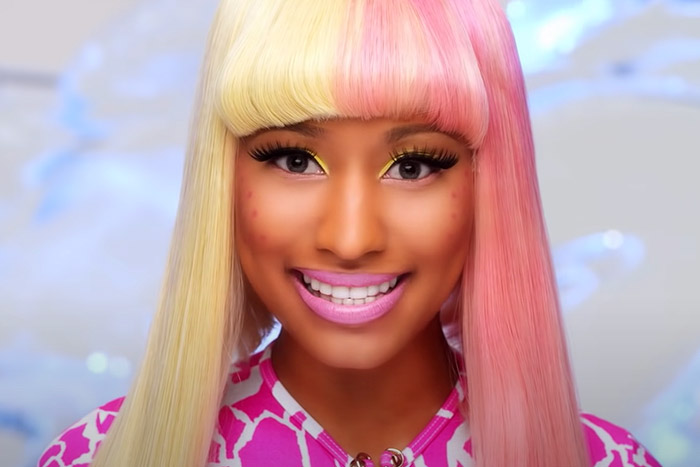 Nicki Minaj's song "Super Bass" has gone diamond. The rapper just received a diamond plaque from the Recording Industry Association of America (RIAA) for her 2011 hit song. The plaque certified that the song just reached the 10 million unit mark.
Nicki celebrated by posting a video on IG showing off the plaque as Super Bass plays in the background. She thanks her labels-Young Money, Republic Records Cash Money, songwriter Esther Dean, and her producer Kane Beatz. Nicki also acknowledged Taylor Swift, one of the first artists to show support, a move that pedaled the song to its initial success.
"#SuperBassDiamond Thank you for over a decade of support," Nicki continued. "#Barbz (special thx to Ester Dean, Kane, Juice, Taylor Swift, Sofia Grace & Rosie, Ellen, Young Money/Cash Money & Republic. This one was released b4 the streaming era, so millions of fans actually purchased the song. I'm so grateful for you guys. Sending love & blessings your way."
Second Female Rapper to Reach Diamond
Nicki is now the second female rapper to achieve this feat. Her rival, Cardi B, became the first to reach diamond in March 2021 with her 2017 track "Bodak Yellow."
Nicki joins an exclusive group of only eight rappers with a solo diamond single. Others include Drake, Travis Scott, Kanye West, Fetty Wap, Cardi B, and the late XXXTENTACION. Ye joined the group only last month with his 2007 hit "Stronger."
First Highest Charting Song
Speaking in an interview with MTV News while on the set of the "Super Bass" video shoot, Nicki Minaj said, 'Super Bass' is about the boy that you are crushing over, and you kind of want to get your mack on, but you're taking the playful approach."
Super Bass was released in April 2011 and reached #3 on the Billboard Hot 100. At the time, it was Nicki's highest-charting hit. The single appeared on her debut album, Pink Friday.