Snoop Dogg and Eminem Collab in the Making, Despite Past Beef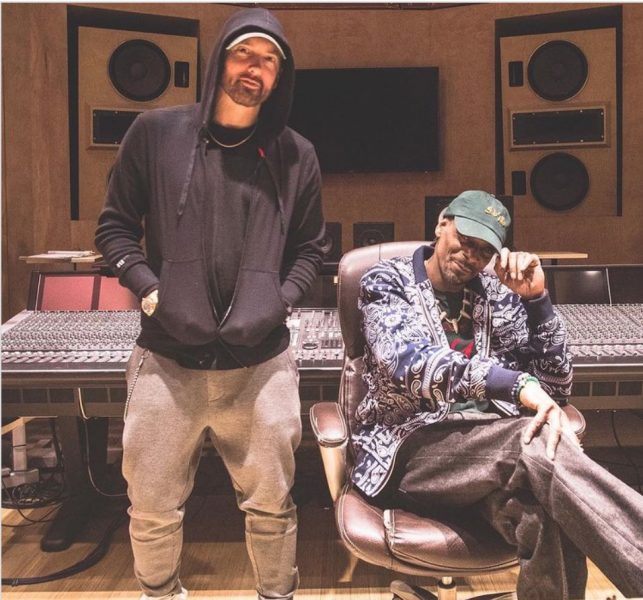 Snoop Dogg and Eminem could be working on a track together. This was revealed in a tweet by DJ Whoo Kid where Snoop Dogg hinted of a possible Eminem collaboration that could be on the way.
Snoop is quoted saying, "Everybody's solo song was the last verse of the song before that, except the one with me and Eminem."
He adds, "when n*ggas hear that Eminem on that mothaf**ka, that's just a whole other level."
Snoop Dogg and Eminem's Past Beef
This is big news to the hip hop industry, especially considering the two had a misunderstanding back in 2020 after Snoop excluded Eminem from the Top 10 Greatest tapper all-time list.
Eminem retaliated by throwing shade on the rapper on Music to be Murdered By: Side B where he raps, "As far as squashing beef I'm used to people knocking me/But just not in my camp/And diplomatic as I'm tryin' to be/Last thing I need is Snoop doggin' me/Man, Dogg, you was like a damn god to me/Meh, not really (haha)/I had dog backwards."
Snoop's Top Ten
Em also explained why Snoop Dogg's remarks bothered him. He said that not being in Snoop's Top 10 did not bother him. Neither does he have a problem with Snoop saying that Dre made the best version of him. Eminem actually agreed that he wouldn't be where he is without Dr. Dre. (Read about How Eminem Got a deal with Dr.Dre back in 97)
Em added, "The rappers he mentioned from the '90s — KRS One, Big Daddy Kane, [Kool] G Rap — I've never said I could f**k with them. I never said that."
Marshall Mathers continued to explain that it's the tone that caught him off-guard. He also added that he could have gotten past that, but Snoop's last statement where he says, 'Far as music I can live without, I can live without that sh*t' was disrespectful to him.
Super Bowl
The two seem to have buried the hatchet. Together with Dr. Dre, Mary J Blidge, and Kendrick Lamar, the pair will be performing at the Super Bowl LVI Pepsi halftime show in February 2022.