Dr Dre, and Eminem Among Celebrities to Perform At Superbowl LVI Halftime Show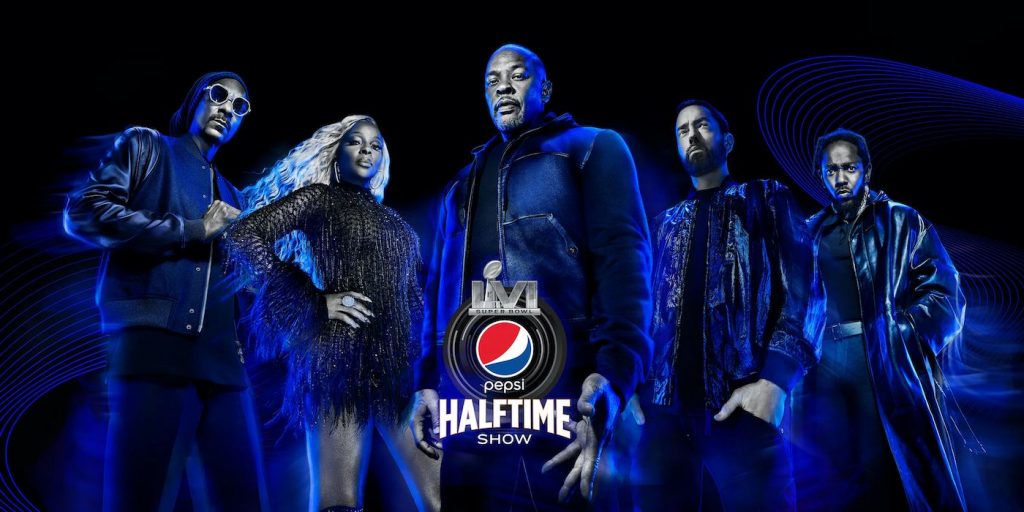 On September 30th, Dr.Dre confirmed that him, Eminem, Kendrick Lamar, Snoop Dogg and Mary J Blidge will be performing at the Superbowl LVI halftime show slated for February 2022. It was one of those rare moments that Dr Dre took to Instagram to announce the news.
The post contained an image of the five superstars with the caption;
"I'm extremely excited to share the stage with my friends for the #PepsieHalftime show."
He also added; "This will introduce the next saga of my career….Bigger and Better than Ever!!! @NBCSports @Pepsi @NFL @RocNation #SBLVI."
Eminem and Dre Tweeted about Superbowl
Eminem shared the news on Twitter about the same time as Dre with the same image and the caption
"Dre day in February. I'm there! #PepsiHalftime Show @NBCSports @Pepsi @nfl @rocnation #SBLVI."
Judging from the tags in both posts, it seems Jay-Z's Roc Nation was involved in the deal. Jay Z's company-Roc Nation signed a deal with the NFL back in 2019 to help in the league's social justice efforts and strengthen its connection with the music industry.
Jay-Z and his company serve as NFL's live music entertainment strategist and are consultants of the Super Bowl halftime show productions.
Dr. Dre is Excited
Dr. Dre has sent a statement to a news media expressing his excitement of performing at the Super Bowl Halftime show which will be in California.
He also added; "I'm grateful to JAY-Z, Roc Nation, the NFL, and Pepsi as well as Snoop Dogg, Eminem, Mary J. Blige and Kendrick Lamar for joining me in what will be an unforgettable cultural moment."
Jay-Z has been instrumental in the NFL's Inspire Change initiative which seeks to address racial injustices and police brutality towards African Americans.
The 2022 Super Bowl is slated for 13th February 2022 at the SoFi stadium outside Los Angeles. The stadium is home to the Rams and the Chargers