Kodak Black Says He Might Make an Album with Drake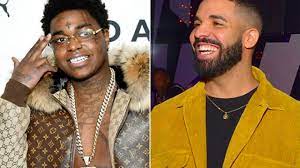 American rapper Kodak Black revealed that he and hip-hop artist Drake had worked together on enough songs to create an album. He disclosed this information at a press conference for the Kodak Black Day music festival in Pompano, Florida.
At the press conference, the rapper said, "Me and Drake, we got some more music. It's really on whenever bruh might feel like he ready."
kodak Black also mentioned the decision to release an album depends on Drake.
"They be like, 'Is we gone drop the album? We gonna do this?' It's really on him, We got a lot of songs though."
Kodak Black day Festival
The rapper celebrated his 25th birthday on June 11th in his hometown Pompano Beach at the Kodak Black day festival. The festival took place in Pompano Community Park and featured performances by artists, including Lil Durk, EST Gee, Hotboii, and Moneybagg.
Rex Hardin, Pompano Beach Mayor, and city commissioners also attended the festival. Kodak Black Day celebrated the rapper's generous contributions to his South Florida community. The county officials mentioned the various donations by Kodak Black that have significantly impacted the lives of many, especially underprivileged college students.
Back For Everything
2022 has been a busy year for Kodak Black, with the rapper making a lot of progress in his hip-hop career and working with prominent artists in the industry. He released the fourth studio album, Back For Everything, in February this year. The album features nineteen tracks, including Take You Back with Lil Durk, Sink My Ship, Midas Touch, Love Isn't Enough, and Purple Stamp. Back For Everything debuted at No. 2 on the US Billboard 200 chart.
Kodak Black also appears on multiple tracks in Kendrick Lamar's latest album Mr. Morale and The Big Steppers. His collaboration with Kendrick, however, stirred up controversy. Kodak Black, having been previously accused of sexual assault, many people thought it was inappropriate for him to feature in Lamar's album that addresses sexual violence.